Answering Mobile's Most Commonly Asked Bed Bug Questions
6/5/2021
Bed bugs are small wingless parasitic insects with an oval, flat body that has a reddish-brown color. Bed bugs feed on the blood of human hosts and warm-blooded animals, typically while they sleep.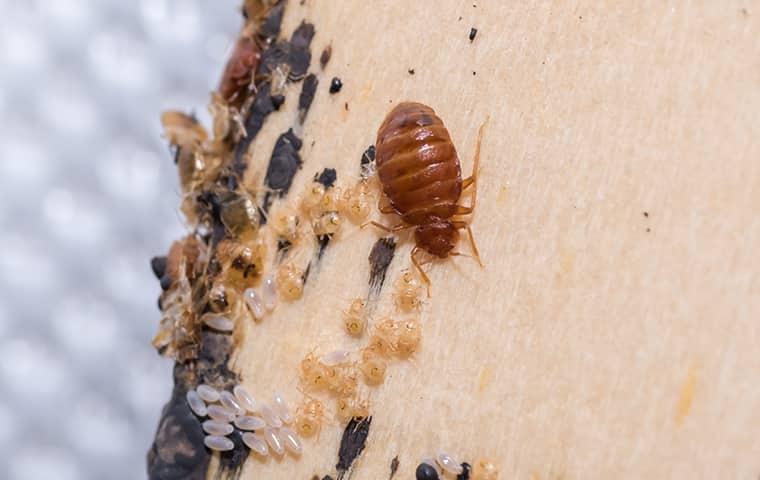 What Is The Main Cause Of Bed Bugs?
Unlike many troublesome critters, they aren't attracted to dirty or unsanitary conditions. Bed bugs are considered as hitchhikers that are typically brought into homes and businesses unknowingly in people's clothing, bags, suitcases, and other belongings. People that are traveling often encounter bed bugs in hotel rooms, airports, or on buses or trains.
Where Are Bed Bugs Found?
Bed bugs tend to crawl into bedroom areas where humans sleep, which allows them nightly access to their food source. After feeding, they will commonly hide in some of the following areas:
On mattresses, box springs, headboards, and bed frames.

Within cracks in furniture, or inside baseboards, floorboards, and other crevices.

Under piles of clothing, or other household clutter on the floor.

Behind wall hangings, or inside electronic equipment.
It is very common to detect the presence of bed bugs without seeing them. They tend to leave a small trail consisting of spots of blood and black feces on sheets and pillowcases. Bed bugs also will shed their skin, which appears as translucent shells, leave small light-colored eggs, and commonly create a musty smell.
Do Bed Bugs Spread Disease?
Unlike mosquitoes, ticks, and other parasites, bed bugs are very unlikely to spread harmful pathogens among their hosts. People that are bitten often will notice small itchy red bite marks in patterns on their skin. Those with allergies should avoid scratching or otherwise creating very irritated skin, which could then become susceptible to infection. Occupants of a home with a bed bug infestation often experience anxiety that results in restlessness and difficulty sleeping.
What Home Remedies Get Rid Of Bed Bugs?
The majority of home remedies are ineffective against bed bugs, and instead will require treatment from a professional. There are a few ways of preventing them, such as keeping the bedroom floor clear of clutter.

After returning from travel, closely inspect bags and clothing for any evidence of bed bugs. Clothing that may have come into contact with bed bugs should be washed and dried using a high-heat setting. Avoid bringing second-hand mattresses or other furniture into your home unless thoroughly inspected.
Properly Responding To Pest Intrusion
Bed bugs are among the more resilient pests that retreat into hiding during the daytime. Some homeowners mistakenly attempt to purchase do-it-yourself (DIY) products that are sold by retailers that are largely overhyped as being a quick and easy solution for banishing these pests. Unfortunately, these options including sprays, foggers, and powders tend to deliver very mediocre and short-term results.

The best way of responding to these types of concerns is to promptly speak with an experienced pest extermination professional who will ensure that the treatment will be performed in a manner that will protect you, your family, pets, and our local environment.
Experienced Pest Control Professionals In Mobile
For nearly 25 years now, the seasoned team of experts at EnSec Of Alabama has been successfully providing solutions in the realm of pest, lawn, and termite control. Our Mobile area customers appreciate our comprehensive approach to safely and effectively eradicating invaders, including bed bugs, fire ants, cockroaches, and many other unwanted pests. The process involves conducting a thorough interior and exterior inspection, using the latest treatment options, and completing timely follow-up.

Our commitments to safety and high-quality customer service have earned the organization an A+ rating with the Better Business Bureau (BBB). As active members of the National Pest Management Association, we continue to adopt the best practices needed to remain among the leaders in the industry. Contact our office today for an onsite inspection and no-obligation estimate.