Is Professional Termite Control Necessary In Mobile?
10/15/2022
Termites are destructive wood-consuming insects that may also feed on cardboard, paper products, plaster, and other cellulose materials. In nature, termites benefit the environment by accelerating the decomposition of dead branches, fallen trees, and some forms of vegetation. Unfortunately, residents of Mobile might experience a termite infestation on their property, which can result in costly property damage.
An entomologist with the Alabama Cooperative Extension System explained that the majority of termite infestations in the state involve subterranean termites, which create underground nests. Specifically, the most destructive type is Formosan subterranean termites, which are most prevalent in the counties along the Alabama coast.
Are you wondering how to get rid of termites on your own? Detecting termite activity is often challenging, and many property owners misidentify termites as ants or other tiny pests. In many cases, these pests might erode a wooden part of a home for several months before finally being identified. For this and other reasons, individuals with a termite infestation or a suspected infestation should promptly contact a pest extermination expert.
A licensed Mobile pest control professional knows what will kill termites and may identify other areas of the property that appear vulnerable. Conducting a thorough inspection is the best means of accurately assessing the extent of a termite infestation, assessing the damage, and choosing the appropriate treatment option.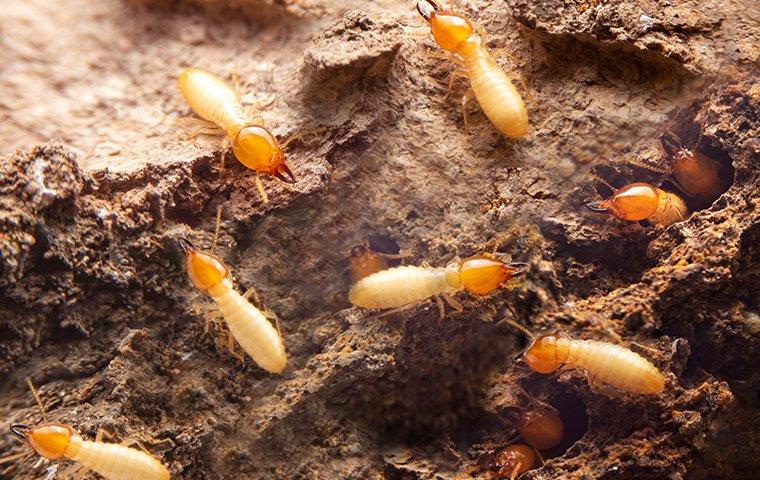 Types Of Termite Bait
Data from Alabama Agricultural and Mechanical University (Alabama A&M) indicates that most termite bait is in the form of a termite food source; however, it also often contains an insect growth regulator such as a termiticide. Termites will consume bait that typically has a "delayed reaction," allowing ample time to spread the termiticide among other colony members.
What are termites attracted to? Termites in Mobile usually prefer sources of cellulose in damp materials such as wooden structures that endure water damage. Homeowners must properly maintain roofs, gutter systems, and plumbing systems that may promote water problems and promptly remove dead tree branches, fallen trees, and similar debris.
Types Of Chemicals Used To Treat Termites
The most common termite treatment options include liquid or biological termiticides, baiting systems, and preventative measures such as physical barriers and wood preservatives. Common termiticides are often either nonrepellent or synthetic pyrethroids (repellant). Nonrepellent options usually work when termites either consume or have direct exposure to the agent, while the repellants emit an odor that deters termites.
What To Expect When Signing Up For Professional Termite Control
Professional pest control companies in Alabama comply with the Alabama Department of Agriculture and Industries. For example, licensed providers treat termites, insects, or types of fungi that enter, consume, or destroy wooden structures.
Businesses that perform services in categories including the control of wood-destroying organisms or industrial and household pest control also must provide proof of liability insurance coverage issued by an insurer that qualifies for doing business in Alabama. The coverage ensures protection if damage occurs involving people or property.
Aside from compliance with safety requirements, professionals will remain knowledgeable about the latest products and treatment options that emerge in the industry. Many pest control operators seek ongoing training and educational opportunities such as those facilitated by industry leaders and advocates, including the Alabama Pest Control Association (A.P.C.A.), which emerged in 1947. The A.P.C.A. now consists of a committee for legislative matters, ten regional directors, and provides industry certification.
Total Termite Control For Mobile Homeowners
Mobile residents should contact EnSec Pest & Lawn experts, for top-quality termite extermination services. Our qualified specialists understand how to detect termites and how to eliminate termites from your property before these pests inflict further damage to your home. For example, we might deploy the Sentricon® System with H.D. Always Active, which is an industry-leading baiting system that forms a "virtual" barrier of protection around the property's exterior.
Contact our office today to speak with one of our friendly team members.